Envy of World Economy Belied by Ailing Australia Industries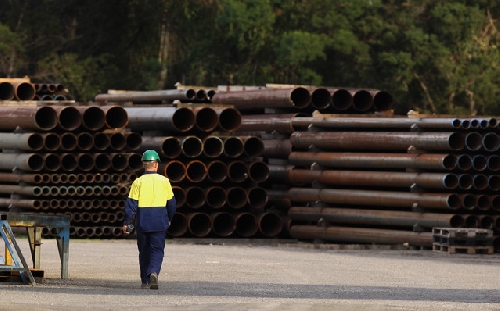 Looking out over aging warehouses in Unanderra, two hours' drive south of Sydney, 61-year-old Tom Folino-Gallo curses the strength of the Australian dollar as truck horns blare support for picketers at a nearby factory. "The ripple effect is more catastrophic than the Japanese tsunami in this region," said Folino-Gallo, owner of WGE Group, which supplies steel and cement makers. "This dip on the rollercoaster is the scariest I've ever experienced." Tom Folino-Gallo's worries reflect the divide in an economy that Treasurer Wayne Swan called the "envy of the developed world" a day before the government reported the biggest quarterly drop in employment for a decade. Australia's mining boom, which kept the country out of the 2009 global recession, lifted the currency to a record last month, cutting profit at BlueScope Steel Ltd. and pushing companies such as toll-operator RiverCity Motorway Group into bankruptcy protection. The Australian dollar touched $1.1081 on July 27 fueled by a central bank that this month considered raising the developed world's highest interest rates to rein in resources-fueled inflation. Sustained currency strength would reverse a three- decade effort dating back to Bob Hawke's 1980s Labor government to reduce dependence on agriculture and minerals and diversify an economy that rode "on the sheep's back." You can read more of this article as featured on Bloomberg on the following link http://www.bloomberg.com/news/2011-08-11/envy-of-world-economy-belied-by-australia-s-ailing-industries.html
BSL Raw Materials Barrel Reclaimer
.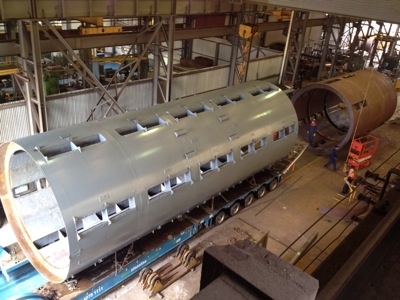 Stage 1 of the BSL Raw Materials Barrel Reclaimer painted in Pewter Grey with Ceramic internal wear lining returns to Hayco Fab #1 Shop at Five Islands Rd with Section 3 ready to join section 2 at the paint yard. The Raw Materials Barrel Reclaimer is produced with Grade 350 Steel Plate and is manufactured to comply with the stringent Part 5 ASNZ welding code with 100% Ultra Sonic testing of welds.
BlueScope Steel Raw Materials Barrel Reclaimer
.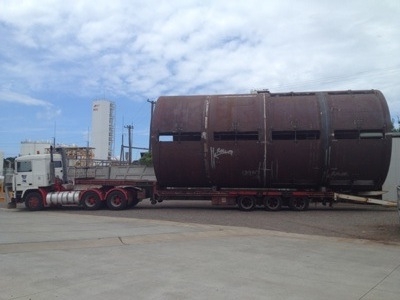 Hayco completes manufacture of stage 3 component of the BSL Raw Materials Barrel Reclaimer. Ready for transport for painting where after 4 weeks of painting and wear resistant ceramic coating will see this section return to the Hayco Five Islands Rd Division for final stage assembly with sections 1 and 2 where Hayco will transport full structure intact to site for installation.